Meet our

team and volunteers
Meet the people at the heart of social impact in downtown Ottawa. With an unwavering commitment to community-centred impact, our team and volunteers connect members, facilitate cross-sector collaboration, design events, build programs, and support your work.
So, how can we help you?
Liz Cleland (she/her)
Managing Director
Liz is Impact Hub Ottawa's Managing Director. With a background in business and in the charitable sector, Liz brings an entrepreneurial spirit and a passion to support other entrepreneurs to #dogoodbetter.
Gina Babinec (she/her)
Head of Programs and Partnerships
Working remotely from K'jipuktuk/Halifax, Gina is passionate about bringing people and ideas together for impact and works to design inclusive programs and events that empower change-makers to bring about social and environmental justice in their communities.
Building on a background in gender and social policy, Gina is committed to creating brave spaces for connection and collaboration across diverse perspectives and sectors, both in-person and virtually.
William El Khoury (he/him)
Head of Operations and Community Experience
William moved to Ottawa in 2014 to pursue a Master's degree in chemical engineering. After working for a non-profit organization for a year, he decided to apply his engineering knowledge to the environmental sector, working as a research assistant and as a chemical technician. William is passionate about supporting innovation for the betterment of the world. During his free time, William volunteers as an interpreter for resettled families in the Ottawa-Gatineau area. He is an avid graphic artist and loves to cook.
Kayla O'Neill (she/her)
Program Officer
Kayla recently moved back to Ottawa after spending the last two years in Peterborough working on a Masters of Sustainability from Trent University. She has a background in environmental studies and has a passion for environmental work, forest sustainability, and advancing the SDG goals.
Dalainey Gervais (she/they)
Community Host
Dalainey recently moved to Ottawa after completing undergraduate studies at U of T in Linguistics and Anthropology. Having previously worked as an office coordinator at UTM's Sexual Education Centre, Dalainey thrives to incorporate sustainable research into health and social settings.
At the Hub, Dalainey will be your go-to all things coworking, event space and community newsletter.
Tristan Oliff (he/him)
Marketing and Communications Lead
Tristan is an impact-focused storyteller who seeks to use his energy to promote meaningful collaboration and facilitate equitable and sustainable social change.His professional journey has led him through parliament hill, into the non-profit world, and around the new media movement, providing a unique background in media relations, policy communication, and collaborative community engagement.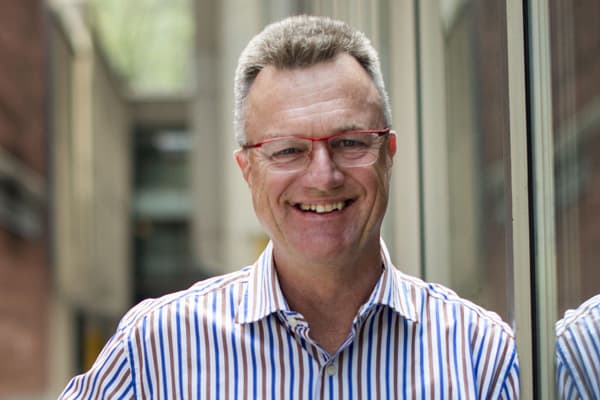 Brian Toller
Chair of the Board
Brian Toller is President of Tolcor Investments Ltd., a private investment firm. He is also Co-Owner of Cognitive Workshops, which provides cognitive therapy training for mental health professionals across Canada and in the UK. Previously, he was President of real estate developer The Expernet Group; Senior Consultant of DCH Consultants; Publisher of Renewable Energy News; and a reporter with the Ottawa Citizen. He received an Honours BA in Economics and Canadian Studies from Trent University in 1975 and also did post-graduate studies in journalism at Carleton University.
On a community level, Brian is on the board of Community Foundations of Canada, which represents the 191 community foundations across Canada. He was on the board of the Community Foundation of Ottawa (CFO) for 10 years, three as Board Chair and four as Chair of its Investment Committee, where he led an initiative to implement Responsible Investing and Impact Investing policies at the foundation. He is currently a member of CFO's Impact Investing Committee as well as its Investment Committee. He is an active supporter of the Ottawa theatre community and is involved in other local initiatives around issues of affordable housing and social innovation.
JP Bervoets
Board Member
JP is Vice President of Community Foundations of Canada, the national network of 191 community foundations. For the past decade, he has worked to build meaningful cross-sector partnerships to enhance community wellbeing and advance domestic and international development outcomes through professional and voluntary roles based in North America, Europe and Africa.
Prior to joining Community Foundations of Canada, JP helped drive the partnership development and communications efforts for North Star Alliance, a public-private partnership founded by the United Nations World Food Program and TNT Express, and recognized by UNAIDS, the Clinton Global Initiative and the World Economic Forum as a best practice on how business, governments and civil society can combine forces to rapidly scale up access to healthcare.
He has a Master's degree in Development Studies from York University and his professional interests include sustainable development, public-private partnerships, global health and arts and culture. He's been an Impact Hub member since 2014.
Jesse Cressman-Dickinson
Board Member
Jesse has a background in community management and stakeholder relations. She is a founder and Board Member of JustChange Canada, a not for profit that supports the development of giving circles and sits on the board of their local chapter in Ottawa. She gets excited about new models of philanthropy, experimenting with new forms of public engagement, creating quality public spaces for people of all ages and abilities and working with local organizations to address community challenges.
Monica Chohan
Board Member
Originally from Calgary, Monica moved to Ottawa in 2008 while completing the final year of her law degree at Queen's University. Following several years of professional experience as a regulatory lawyer and public policy advisor, she decided to change gears in 2016 so that she could work with people and organizations seeking to make the world a better place. For the next five years, Monica funneled her longstanding dedication to the safety and well-being of girls into a role as Co-Executive Director of Dandelion Dance. She also began building an independent facilitation, consulting and legal practice.
Today, Monica works full-time with diverse clients from across Canada. She is very excited to join the board of directors at Impact Hub Ottawa and to help steward the next stages of its evolution during the pandemic and beyond.
To learn more about Monica and her work, visit her website at wilbrodhouse.com. You can also reach out to her on LinkedIn.
At Impact Hub Ottawa, we're dedicated to strengthening communities through connection, collaboration and shared impact.
Sound interesting? Get in touch — we'd love to hear from you.
Your community is waiting for you.

Ready to grow?
Connect with like-minded changemakers at the heart of social impact in downtown Ottawa.
First time coworking? Explore our space, on us.